MY Archh.com aCCOUNT
blogs
Mar 09, 2015
Amazing Home and Office interior Products
Interior Design
We looked at trends, best projects in Architecture, best projects in Interior Design and we don't plan on leaving products behind! Archh picks out the best products from 2013 for your homes and offices.
go! by Clarus Glassboards
Go! by Clarus Glassboards is positioned as 'the most design friendly movile glassboard ever'. These glass board come in a number of colours, 10 steel frame colours and 3 caster options. Unique glass patterns and printed designs allow for your style on each project. With colours like red, green, blue etc. these boards break the monotony of boring white boards. Since it's not a fixed board, its a great addition to flexible office spaces. If you work in a creative industry of any kind, Go! is going to be a great addition to your office space.
Space Mobile Walls by Seeyond Architectural Solutions
Flexible work spaces are going big this year and the Space Mobile Walls is just the right kind of product to get if you want in on the trend. These walls are light weight and can be move on demand by anyone, anytime. They can be used to create wall segments, define space or create a small room in itself - providing employees the privacy they need to work and collaborate. You can customize the wall form, tessellation and finishes, dimension and even have artwork printed on the walls. Space Mobile Walls is the perfect amalgamation of installation and design.
Penta by DuPont™ Corian®
If you want your bathroom fittings to make a statement, the Penta Sink might just be the right pic for you. The sink is organic shaped and is inspired by nature. Two thermoformed sold materials - DuPond Corian and the translucent Chroma by 3Form come together creating an interesting illusion of holes in the sink surface. Mac Stopa is the product designer responsible for this sink.
GoTo Worktables by Peter Pepper Products
Designed by Eric Pfeiffer, the GoTo Worktables is the perfect wall-mounted worktable for lobbies and public spaces like airports and government offices. The table is positioned at standing level, making it convenient for short term tasks (like filling a form). It also features a foot rest. Top surfaces come in Compact HPL, 3D laminates and coated glass. There is a hook for bags. Although sturdy, it has a visually light weight design making it ideal for the modern office.
JumpSeat™ Wall by Sedia Systems
If you have an office lobby with limited seating space and heavy footfall, the JumpSeat might be the perfect seating furniture for you. The seat can be cantilevered off the wall, and folded when someone needs to sit. Attaching the seat to the wall saves you space and can be used only when needed.
Arabella sunshade lounger by IL Bella Sole
Designed by Krystyna Kielbon, this outdoor seating lounger bring both style and comfort to your backyard/pool area. An adjustable shade let's you control how much sunlight you want on your face. Another advantage of the shade is that it can be adjusted to block sunlight from falling on your electronic devices, letting you relax and browse with no hindrance.
Miele Brilliant White Plus Series by Miele
Combining both functionality and design, this is one kitchen appliance any modern day home owner would crave for. Inspired by the works of renowned architect Mies van der Rohe, Miele pays and ode to modernistic design and the colour white. They claim that there are 4 core ideas that inspired this appliance -concept, form, elements, continuity and detail. The appliance contains 30" Convection Oven, Steam Oven, Speed Oven, Whole Bean Coffee System and Plate and Cup Warmer. All this held together by a sleek white glass door and Navitronic™ touch controls
Pivot by Dornbracht
The collaboration between Dornbracht and Sieger Design brings us this beautiful kitchen fitting - Pivot. The Pivot is the latest addition to Dornbracht's Tara Ultra series. Sleek and stylish, this is just the fitting you want for your kitchen island. It combines both faucet and pot filler and provides both both and cold water. It rotates about a 360 degree radius. The Pivot is available in polished chrome, platinum matt and platinum finishes.
Seeyond Lighted Wall Facing by Seeyond Architectural Solutions
Dramatic and chic. These are probably the two best adjectives to describe the Seeyond Lighted Wall Facing. This organic shaped lighting fixture is a great wall mount to transform your office/home with sophistication. It can include can include complex form, remote-controlled programmable RGB LED lighting, and the designer's choice of tessellation.
Mismo by Izm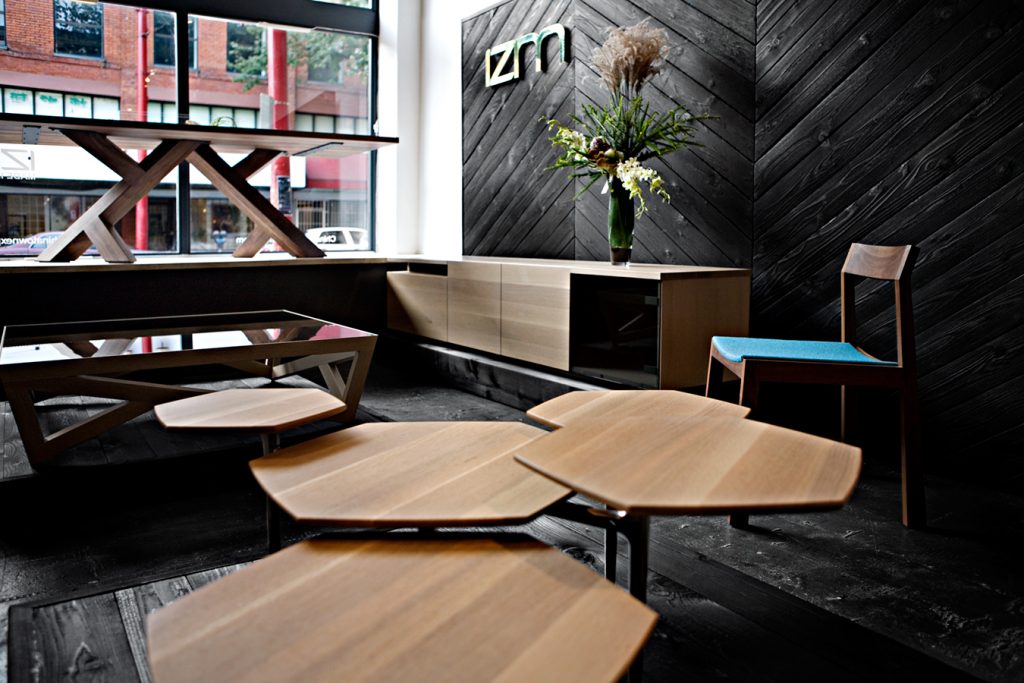 This stylish coffee table is great for home or office. This 5 hexagonal surfaces supported by 4 molded legs adds interest to the room with the geometric assembly. You can even mix and match different wood tops or metal tops to create a custom look. When you can have a coffee table that makes a statement, why have it any other way?
Like this ? Share IT